Adrienne's Birth Story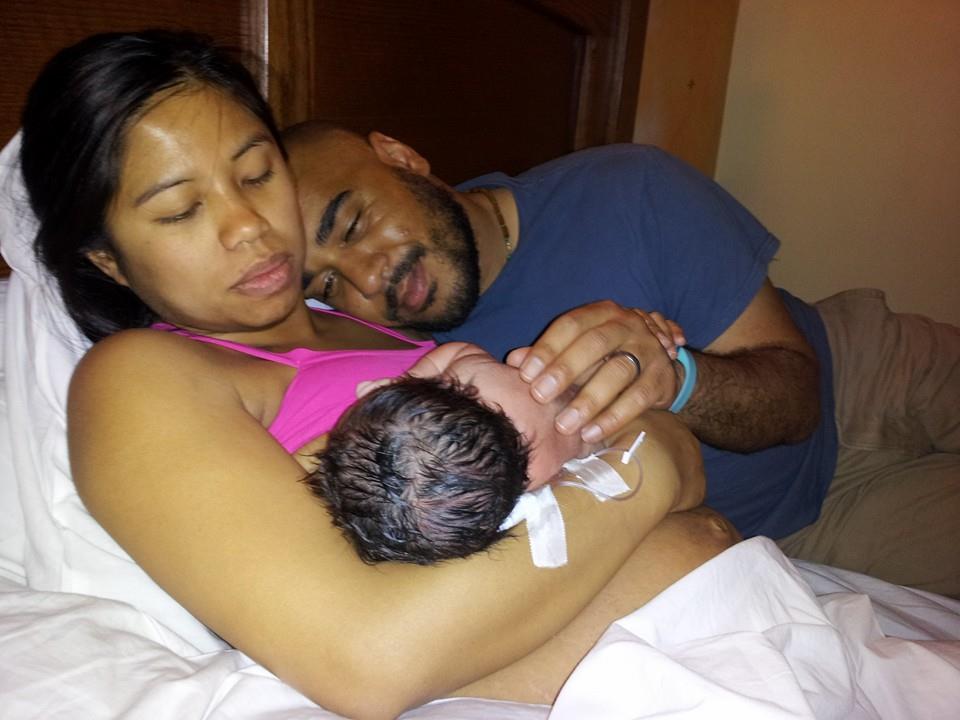 My due date came and went and there I was, still pregnant.

I had planned on working full-time until it was time to have the baby, so I went to work for a few days after I was due, and plastered a cheery smile on my face when people poked their heads in to see if I was still in the office and still pregnant. Yup, and yup. But I was so very ready to meet my baby!

On Wednesday, April 30th I finally decided to work from home for the remainder of the week. I woke up at 3:00 a.m. with contractions, but they were inconsistent and petered out altogether by lunchtime.

The following day, May 1st, was a repeat. I woke up at 3:00 a.m. with contractions that felt stronger than the Braxton Hicks contractions I had during the last few weeks of pregnancy. Working from home that day, the contractions continued, and hour by hour I felt them gaining strength and intensity. But because they had petered out the day before, and they were not coming at consistent intervals, I was still hesitant to think that I might be in actual labor.
My husband John had checked in on me throughout the day from his office, and I assured him I was completely fine. I was working from home, on the couch, with our labradoodle dog Ozzie by my side to help keep me calm. We had joked throughout my pregnancy that his compassionate demeanor would make him the perfect doula, so we took to calling him "labradoula" and "labor-doodle." Little did we know then that he truly would be a source of support as I labored at home alone!
Going into labor

My husband John came home from work around 5:00 p.m. and started timing contractions with me. Between 5-7 minutes apart, each lasting for 30 seconds to a minute. At 6:30 p.m., John suggested I call the midwife on call, just to let them know what was going on. I spoke with Theresa and after explaining the situation, she surprised me by saying that although it was still a little early and could continue laboring at home, she expected that we would be coming into The Midwife Center that night. Until that point, I was still in denial that this was actual labor. Yet here it was, and here we were, finally facing the real thing!
We spent the next several hours taking the dog on one last stroll around the neighborhood as a childless family (slowest walk ever), dropping the dog off at my parents' house, and grabbing dinner. By then, the contractions were uncomfortable enough that the car ride was miserable. I barely remember sitting at our dining table, scarfing down the food we got to-go. After eating, I told John I really felt like lying in bed in the dark. We laid down together for about an hour until we finally decided it was time to call Theresa again. As we were on the phone together and she asked if I felt ready to come in, I had another contraction that left me speechless and moaning. Theresa confirmed, it was time to come in.
Arriving at The Midwife Center

The 15-minute drive to The Midwife Center was so excruciating that John had to pull over a few times during contractions. We finally made it to the center around 11:00 p.m. and got settled into the Desert Room. Theresa checked me and - to my astonishment - announced that I was almost 8cm dilated. No turning back now, I was definitely having this baby!
I got into the tub almost immediately and John and I fell into the rhythm of resting during the down-times and me squeezing his hands during contractions. The water was soothing, and the quiet darkness was peaceful. Though my contractions were intense, I felt confident that I could ride the waves and inwardly felt strong enough to get through labor.
Pushing

After a few hours in the tub, I had the urge to push so I got out and onto the bed for Theresa to check me. Still only 8cm dilated. The baby's head was sitting very low, and still in the bag of waters, which is what made me feel the urge to push. But Theresa didn't want to break my water since I was Group B Strep positive, and needed time to get another round of antibiotics in me. My heart dropped when I heard that I was still not ready to push, and I suddenly felt exhausted. By then it was around 2:00 a.m. and I had been up with contractions since 3:00 a.m. the previous day. Theresa quietly offered Nubain as an option to allow me to rest, assuring me that it would not slow down labor at all. Feeling drained, I decided to take it and John and I had an hour of quiet rest together in the bed. Though I could still feel the contractions, I was able to breathe through them while my body regained its strength.
Finally around 3:00 a.m. I again felt the urge to push. Theresa checked me, and I was a little over 9cm but not quite all the way there yet. She left us to labor a while longer as she checked on another mother down the hall. I switched to an all-fours position to prepare for another contraction and suddenly felt a pop and a gush - my bag of waters had broken! Theresa gave me the good news that I had hit 10cm and could finally act on my urge to push.
John was strong and encouraging, and Theresa and Cheryl knew exactly what to do and say to coach me as I pushed and pushed, but the baby's head didn't want to progress past crowning. Cheryl applied warm compresses to help me stretch and I kept it at, only with the support of the three of them to carry me along as I was past the point of exhaustion. I heard Theresa say that she may have to do an episiotomy as the head still wasn't moving. This was the only point during the entire process that I truly felt scared. With the next contraction I pushed with all my might, and it worked! The head was finally easing out.
I heard Theresa say again that I could get this baby out with three more good pushes. I bore down and vaguely remember vocalizing loudly, and then looked down to see my baby's leg poke straight up from my belly, almost as a sign that she was working hard too. I heard everyone laugh at the sight of that and remember feeling amazed that the baby who was inside of me for so long was about to be outside. Just one more push, they all coached. I did, and screamed, and suddenly I felt the baby slip out of me and felt a wriggly bony mass being placed on my chest.
Meeting Aurelia

I had kept my eyes closed throughout most of the delivery. But as soon as I felt my baby on my chest, my eyes shot open. I heard John announce, "It's a girl!" and I looked at his face to see joyous tears in his eyes. What a special moment.
While I don't remember saying it, John told me that as soon as they laid her on my chest, I kept crying out, "My baby, my baby!" Theresa and Cheryl were exactly the right people to help me through that day. While I felt like I could get through labor relatively easily, they were crucial for me emotionally during the delivery. After a long labor and two difficult hours of pushing, at 5:26 a.m. on Friday, May 2nd, I instantly felt euphoria, relief, and overwhelming satisfaction.
We spent the next several hours in the Desert Room, getting rest, getting checked out, and starting the bonding with our new daughter, Aurelia Esperanza. Though I was exhausted, I was too excited to fall asleep.
Shift change came and Diana made us a delicious breakfast in bed. It felt strange to see the sunlight coming through the window. At noon, we were ready to head home together as a family of three. It was a long, hard, tiring day and night, but we had done it!