Birth at our center
Our midwives and nurses can help you have your baby at our safe, home-like birth center. We have three themed birth suites - Forest, Mountain and Meadow (scroll down to see photos of our birth suites). Each birth suite has its own large bathroom, tub, and Queen-sized bed. We also have extra space for family and support people to rest while you are in labor. If choosing to birth at our birth center, you will be able to:
Labor at home until a more active labor pattern is established, allowing you to be in your own environment before coming to the center.
Eat and drink during labor.
Choose positions that are best and most comfortable for you to allow optimal positioning of your baby and maximize labor progress.
Use our birth swings, birth stools, or birth/peanut balls to allow you to labor/push in your desired positions.
Labor in our tubs, and if appropriate and desired, give birth in the water.
Be "unattached" from unnecessary IVs and continuous electronic fetal monitors, while knowing that if an IV or IV medication is needed, it can be given at the birth center by the nurses and midwives present at your birth.
The use of different medications for pain control if desired, such as IV pain medication or Nitrous Oxide (an inhaled gas, known as "laughing gas" that helps ease labor pains and anxiety).
Be cared for both by certified nurse-midwives as well as registered nurses during your labor and postpartum.
Enjoy a homemade breakfast.
Receive support for breastfeeding your baby, as needed. Our nurses and midwives encourage babies to latch on their own within the first hour of birth, and can provide more support with breastfeeding if necessary. We also have lactation visits available at TMC if you need more support once you are home with your baby.
Once stable and ready for discharge, you and your family are on your way home between 4-12 hours after delivery.
One to two immediate postpartum visits, depending on your medical needs and insurance coverage, by our registered nurses within the first few days of your baby's life, to check on you, your baby, and ensure everyone is transitioning well.
Postpartum visits at TMC both at two weeks postpartum as well as the standard six-week postpartum visit.
​Water birth at our birth center

Two of our birth suites offer the option of laboring and birthing in water for clients who are eligible. The Meadow and Mountain rooms have free-standing birthing tubs that may be used for laboring in water and birthing in water, and the Forest Room offers a jet Jacuzzi that may be used for laboring in water. The benefits to laboring and birthing in water are:
A decrease in episiotomy rates
A decrease in 3rd- and 4th-degree tears
Increased maternal satisfaction
Possibly shorter labors
Possibly less intervention needed to help labor along
Possibly less anesthesia
If you are interested in pursuing a water birth, the midwives can discuss this in detail during your prenatal care.
Learn more about Hydrotherapy from the American College of Nurse-Midwives (PDF)
Read The American Association of Birth Center's position statement on water birth.
Nitrous Oxide and other comfort techniques
We will support the techniques learned in your childbirth classes to help you cope with pain in labor. We also have birth/peanut balls, lotions for massage, birth stools, and birth swings in birth suites available. Most clients get some relief in the tub. Clients who labor in upright positions with the support of family and the TMC team report that labor is far more manageable and empowering.
We are pleased to be one of the few places in Pittsburgh and the surrounding area to offer Nitrous Oxide for pain relief.
Nitrous Oxide is an odorless, tasteless gas-mixed with oxygen. It is widely used in several countries including the UK, Finland, Sweden, Canada, Australia, and New Zealand. It is inhaled through a mask during contractions and provides a feeling of euphoria that dulls the intensity of the labor pain and reduces anxiety. Clients remain awake and alert, using the gas as needed. There are no adverse effects on labor and no risk to baby. One study showed it decreased the length of labor.
Since we began using it in 2016, our midwives report that it is an excellent tool for clients who might have otherwise transferred for an epidural. Unfortunately, at this time not all insurances cover Nitrous Oxide. The out-of-pocket cost is between $50-$200 depending on the time spent using it. Learn more about Nitrous Oxide.
We also have short-acting pain medication available that can be given through an IV or as an injection. It is often given for sleep/rest, but can also be useful for pain relief.

If a client needs a hospital birth
If complications arise during your pregnancy, labor, or birth, we work collaboratively with our midwife and physician colleagues at UPMC Magee-Womens Hospital, West Penn Hospital, and Jefferson Hospital to ensure a smooth transition to hospital-based care. Clients may receive care from midwives or physicians at the hospital depending on the reason and location of transfer. For clients who need a cesarean section, a physician group would take a primary care role in the delivery room. The staff at TMC will coordinate any transfer for you as needed.
If you develop a complication during pregnancy and are no longer eligible for a birth at The Midwife Center, but are still appropriate for midwifery care, you have the option of transferring your care to the Allegheny Women's Health Midwifery Practice at Jefferson Hospital or the Midwives at Magee depending on your insurance coverage and location preference..
If you're in labor at our birth center and need immediate physician care, we will transfer you to physicians at UPMC Magee-Womens Hospital or West Penn Hospital.
The Midwife Center does not offer VBAC birth (vaginal births after cesarean) at the birth center.
Our Birth Suites
Meadow Room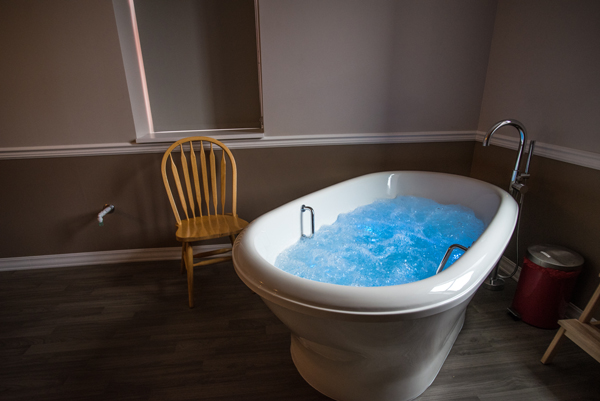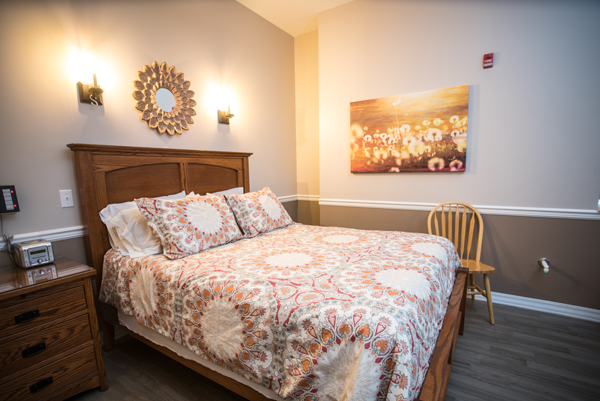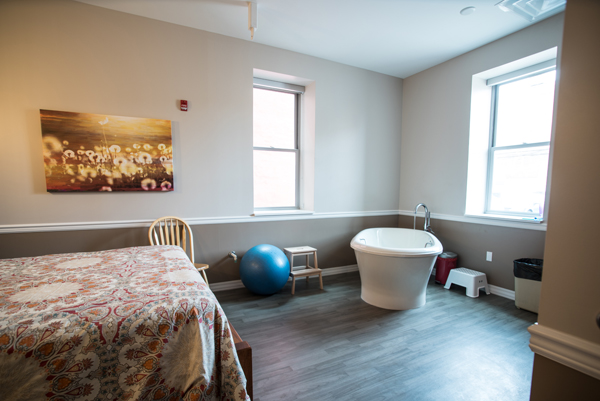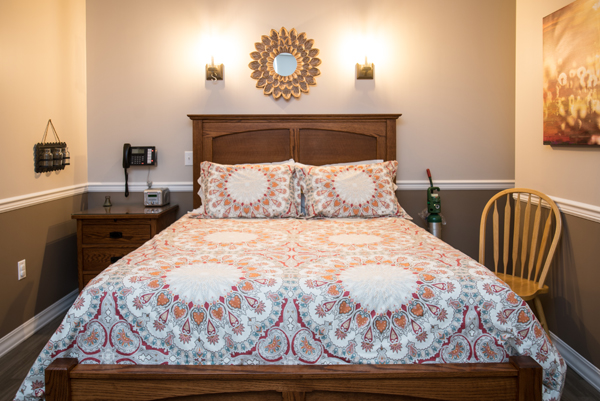 Mountain Room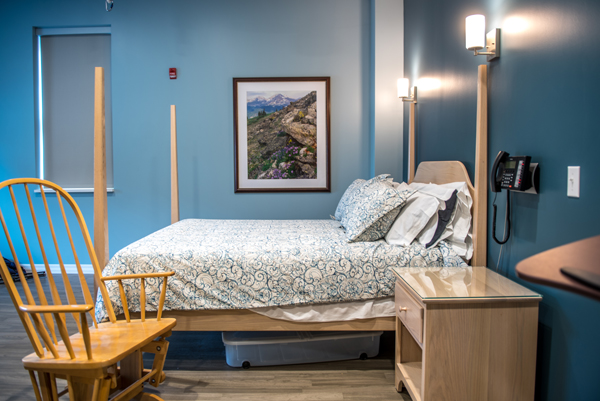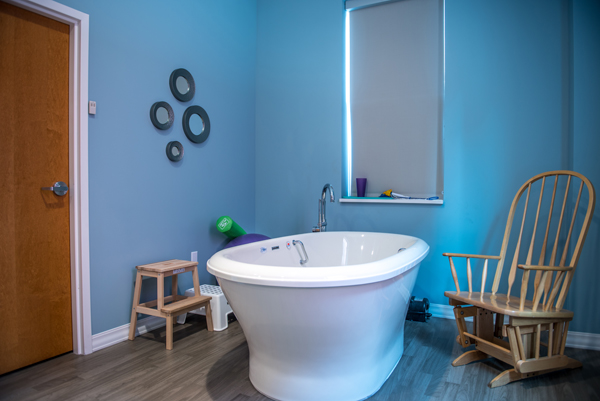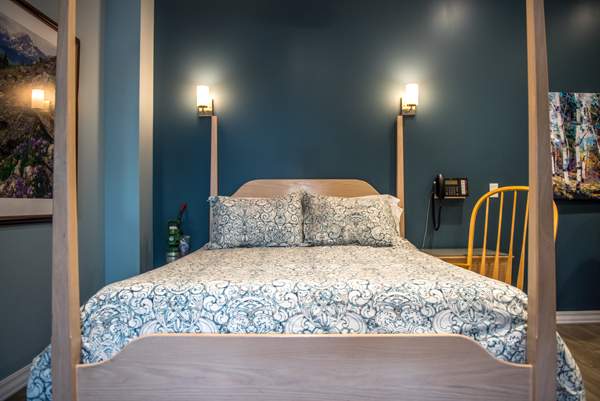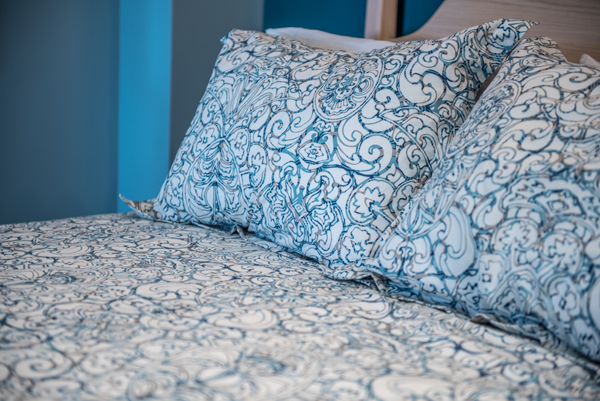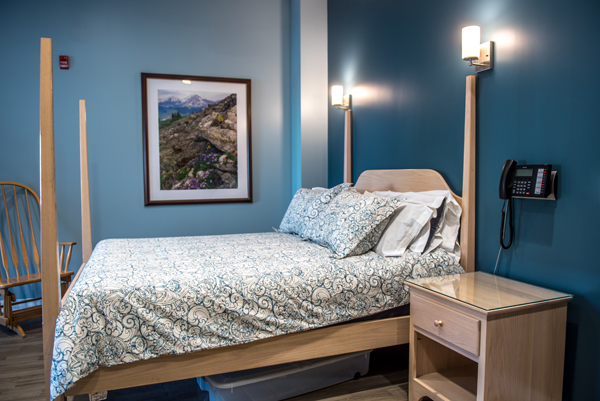 Forest Room