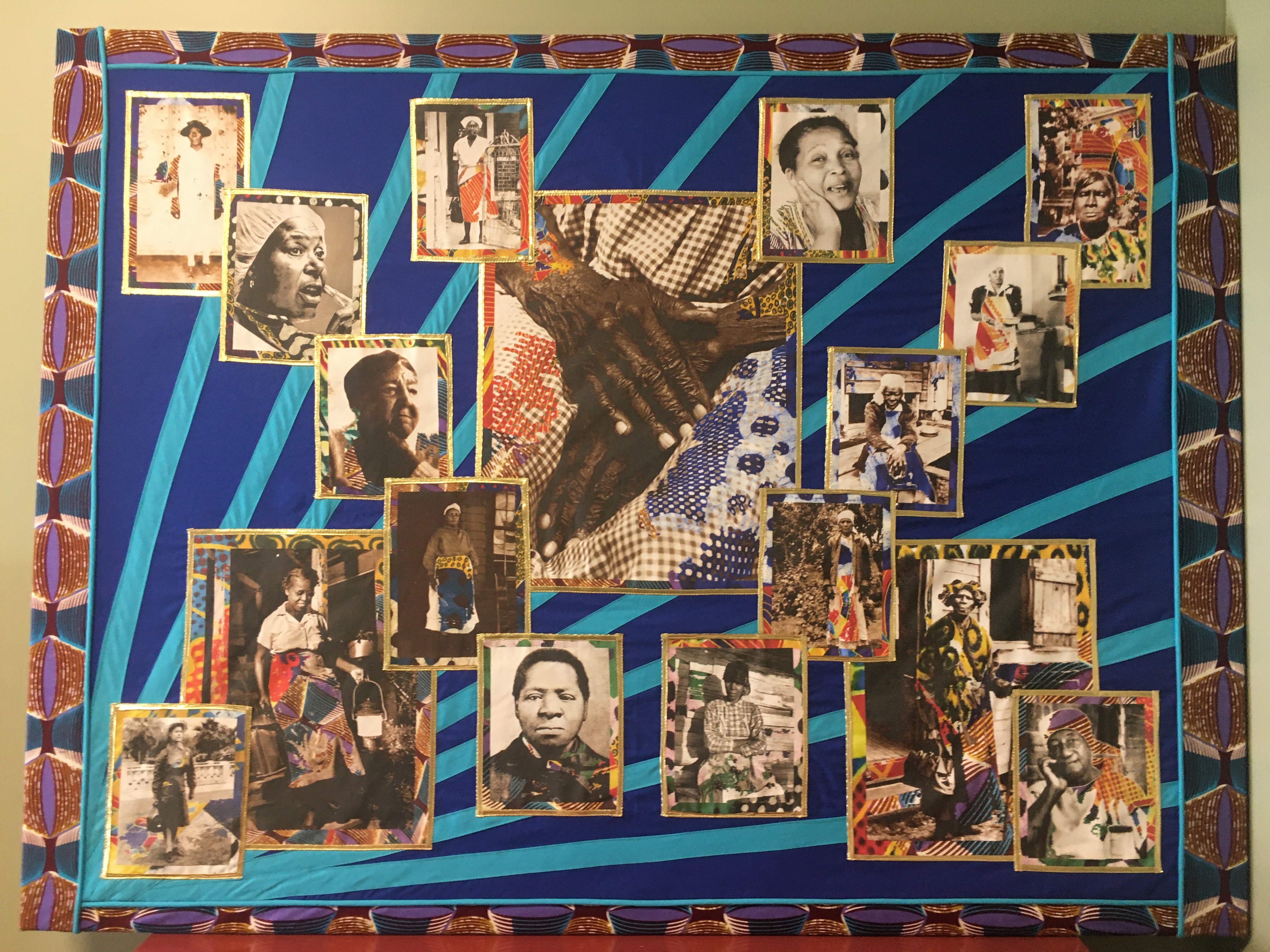 Title: Witness: Honoring the Legacy of the Grand Midwives.
Artist: Bekezela Mguni
Medium: Traditional African fabric prints, Quilting, Collage, Digital Fabric Printing, and Digital Collage
Size: 36 x 48 inches
Center: Elder midwife's Hands, Ella Old, Autauga County, Alabama. Photo by Sharon D. Blackmon, 1981
Top left: Henrietta Atkins, Leon County, Florida. Born March 12, 1865
Center-left: Shug Lampley, Coffee County, Alabama
Center right: Mary Francis Hill Coley, Georgia. Born August 15, 1900
Center right: Georgianna Alexander Greenville, Florida.
2nd Row left: Gladys Milton, Laurel Hill, Florida. Born 1924
2nd Row right: Mamie Odessa Hale Garland, West Virginia, Arkansas, Pittsburgh. Born November 19, 1910
3rd Row left: Margaret Charles Smith, Alabama. Born September 12, 1906
3rd Row right: Sibby Kelly, Glynn County, Georgia.
4th Row left: Aunt Dora Green, Eufaula, Alabama.
4th Row right: Rachel Datcher, Shelby County, Alabama. Born 1870
Bottom left: EJ Kirkland, Florida
Bottom left center large image: Maude Callen, Florida, South Carolina. Born November 8, 1898
Bottom left center small image: Bridget "Biddy" Mason, Mississippi, Georgia, Utah, California. Born August 15, 1818
Bottom right center small image: Aunt Sally, Gees Bend, Alabama.
Bottom right center large image: Georgianna Pride, Miccosukee, FL
Bottom right: Onnie Lee Logan, Alabama. Born around 1910
Bibliography

Bovard, Wendy L., and Gladys Milton. Why Not Me? The Story of Gladys Milton, Midwife. 1st ed., Book Publishing Company, 1993.

Cadwallader, Marian F, et al. All My Babies...a Midwife's Own Story. ed by Cummins, Sylvia K. Iting United States: Distributed by CMC, Center for Mass Communication of Columbia University Press, 1953. Video. Retrieved from the Library of Congress, www.loc.gov/item/2017604960/.
DeEtta Demaratus. The Force of a Feather. 1st ed., University of Utah Press, 2002.

Greenfield, Eloise. The Women Who Caught The Babies: A Story of African American Midwives. Alazar Press, 2019.

Judd, Bettina. Patient. Black Lawrence Press, 2014.

Lee, Valerie. Granny Midwives and Black Women Writers. Routledge, 1996.

Logan, Onnie Lee. Motherwit: An Alabama Midwife's Story. Untreed Reads, LLC, 2014.

Luke, Jenny M. Delivered By Midwives: African American Midwifery in the Twentieth-Century South. 1st ed., University Press of Mississippi, 2018.

Roberts, Dorothy. Killing the Black Body: Race, Reproduction, and the Meaning of Liberty. Vintage, 2014.

Smith, Margaret Charles, and Linda Janet Holmes. Listen to Me Good: The Life Story of an Alabama Midwife. Ohio State Univ Press, 1996.

State Library and Archives of Florida. "Florida Memory." Florida Memory, www.floridamemory.com/.

Susie, Debra Anne. In the Way of Our Grandmothers: A Cultural View of Twentieth-Century Midwifery in Florida. University of Georgia Press, 1988.

White, Arisa, and Laura Atkins. Biddy Mason Speaks Up. Heyday, 2019.

Wilkie, Laurie A. The Archaeology of Mothering. 1st ed., Routledge, 2003.