Above: Rachel Simmons of Bella Christie and Lil' Z's Sweet Boutique with her First Place Decorated Cake, "Life Bringer"
The Midwife Center is excited to announce the winners of our 13th annual fundraiser party and cake contest, Let Them Eat Cake! Over 325 guests attended the sold-out event at Hotel Monaco on Friday, October 19th to support The Midwife Center's programs and services, and to enjoy cakes by Pittsburgh's more innovative and creative amateur and professional bakers.


You helped us raise a RECORD $115,000 to support safe, personalized reproductive care for women and families. Thank you!

All photos are by Andy Johanson Photography unless otherwise noted.
The evening kicked-off with the sold-out VIP Champagne Reception & Dinner, chaired by Tacy Byham, Ph.D. 140 guests enjoyed a champagne toast, wine, a delicious dinner by the culinary team at Hotel Monaco's restaurant, The Commoner, and music by cellist Younga Reitz. Speakers included Board Chair Christine Andrews, MD, client and former board member Pastor Jessica Brown, and Clinical Director Ann McCarthy, MSN, CNM. County Councilman Tom Baker emceed the evening.
After dark, nearly 200 additional guests joined the Cake Reception and enjoyed delicious hors d'oeuvres, a fabulous silent auction chaired by Board Member Kathleen Gaines, music from DJ Kelli Burns, and of course - the cakes!
Both amateur and professional bakers and decorators amazed guests with their incredible cakes inspired by the aquatic theme, "Make Waves." Both guests and expert judges rated the cakes and chose the winners. The expert judge panel included Angelique Bamberg and Jason Roth, City Paper; Frank Locante, Penzeys Spices; Chef William M. Racin, CEPC, Duquesne Club; Arthi Subramaniam, Pittsburgh Post-Gazette; Briana "Bree" White, Breelicious Bites, New Pittsburgh Courier, & The Soul Pitt; and Chef Don Winkie, Eighty Acres Kitchen & Bar
Thank you to our bakers, decorators, sponsors, guests, volunteers, judges, silent auction donors, VIP Dinner Host Committee members, and everyone else who made Let Them Eat Cake a huge success!

Event photos on Flickr >>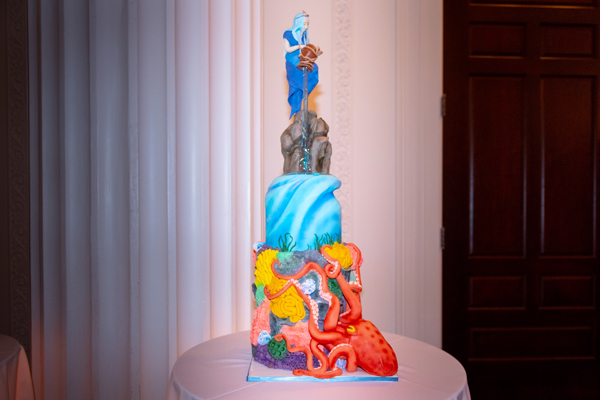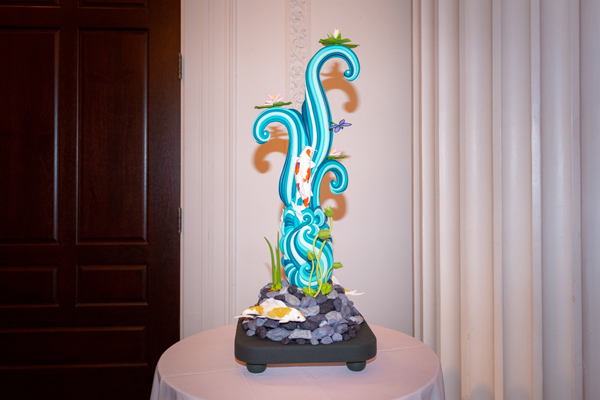 About the cake
"My submission is based in Chinese folklore, depicted in sculpted modeling chocolate with gumpaste and fondant accents."
Bio
"I am Emma Lee Moore of Emmalee's Sweet Dreams located in Martin's Ferry, Ohio. I have been working for six years as a self-taught cake artist from my home."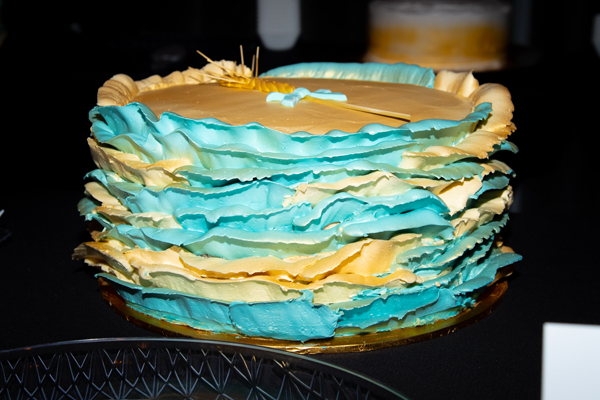 About the Cake
"Belgian chocolate craft brew cake made with Rivertowne Brewery's Zeke's Brew with a Liberty Pole Spirits Bourbon Cream ganache, and waves of Vanilla Bean Paste Swiss Buttercream."
About the Baker
"IT ALL STARTED WITH A CAMPER… Happy Camper Cakes is Westmoreland County's only mobile cupcake camper. Baking up the Sweetest Kind of Happy, we only use the freshest and best ingredients we can find. That is why our cupcakes are simply the best around. After a lifetime of baking family and friends the most delicious sweets they've ever had, Gwyn Zollinger decided it was time to stoke her entrepreneurial spirit and pursue her baking passions in the form of a vintage camper. It seemed far-fetched at first, casually chatting about it with her kids and husband, then the opportunity of a lifetime came - the camper itself. She found it on Craigslist and knew it was 'the one.' Work began right away. Husband Matt tore the inside and outside out to begin renovations and brother, Tom, began to build the industrial kitchen in the unused basement space. Gwyn is the happiest when she is making others happy. That is what Happy Camper Cakes is all about. Bringing those around her the sweetest kind of happy."
Second Place Taste Cake
"Hawaiian Lagoon" by Jennifer Marshall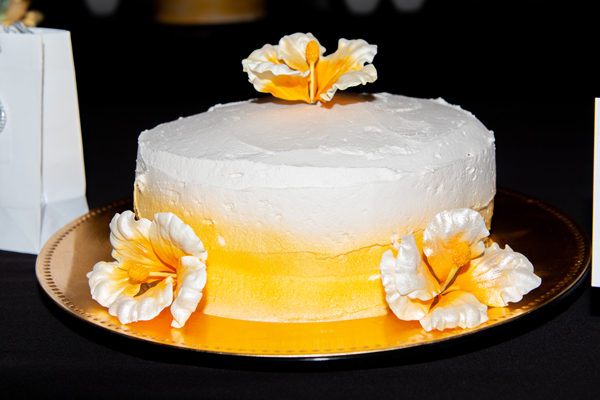 About the Cake
"A mix of Champagne, Hibiscus flowers, and pineapple into a refreshing cake."
About the Baker
"Jennifer Marshall is a women who wears many hats. A busy mother of two young boys, she also is the baker and cook at Rockefellers Bar & Grille. Trying to find her niche in the baking world spending hours on perfecting her craft. She is constantly experimenting and coming up with new and unusual taste combinations and profiles for her pies and cakes."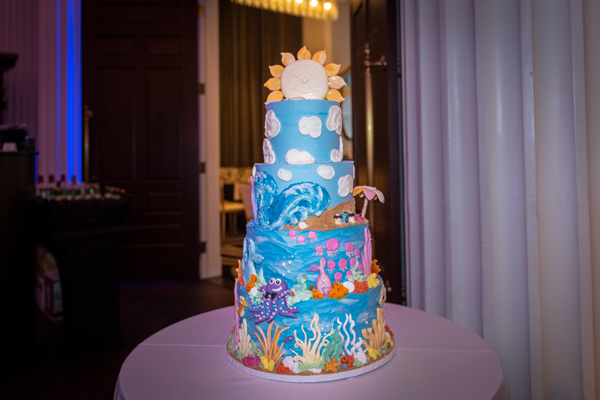 About the Cake
"Oceans and seas are presented to be a beautiful environment. Due to pollution, over fishing, and improper disposal we are slowly affecting sea life. If waves of change begin, we can find our direction from one side of the cake to the other."
About the Decorator
"Samantha began her journey through the world of pastry arts at a young age starting in her Grandma's kitchen and continuing to a Baking and Pastry Arts degree from Paul Smith's College. She traveled through New York and Central PA gaining hands-on experience in desserts, pastries and cake decorating. This has led her to Sunny Bridge where she applies her skills and knowledge to produce beautiful and seasonal baked goods for gluten-free and specialty diets."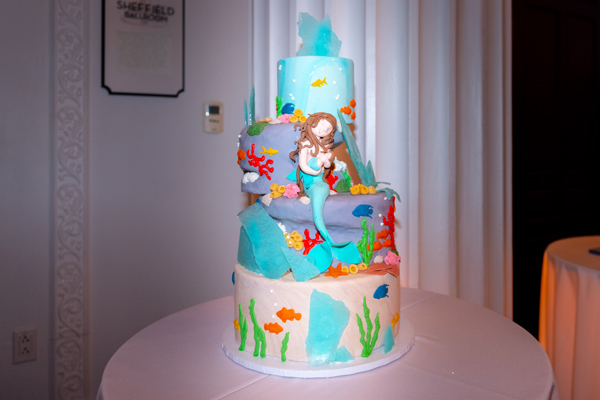 About the Decorator
"I am a 2001 graduate of Pennsylvania Culinary with an Associates Degree is Pastry Arts. Working in all aspects of the industry, I chose to start my home-based bakery business in January of 2016."
Notable Taste Award for a Taste Cake
"Yellow Submarine" by Elena Trbovic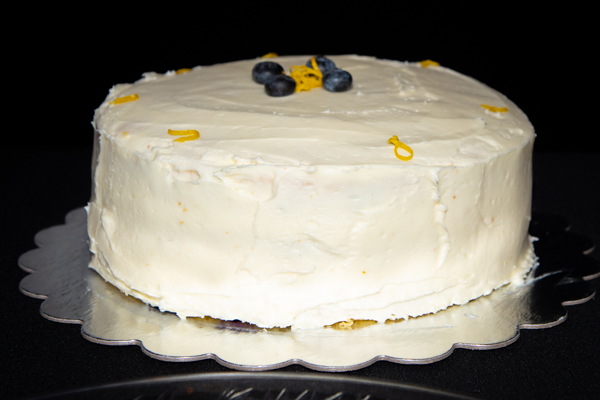 About the Cake
"Lemon cake infused with flowing swirls of blueberries."
Notable Creativity Award for a Taste Cake
"The Liquid Lemondural" by Lauren Narbey & Devon Jennings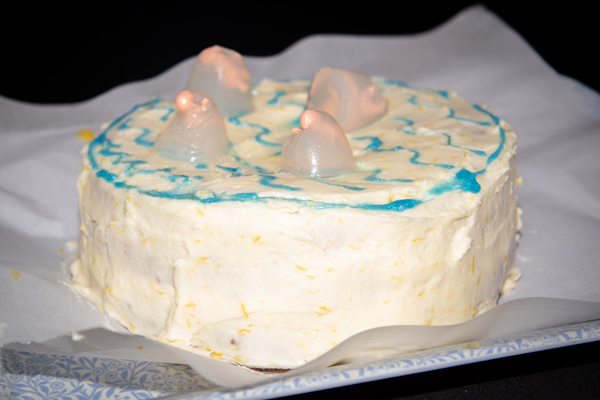 About the Cake
"This lemon-based gluten free cake not only delights the taste buds, it depicts the use of water in labor and birth."
About the Bakers
"Lauren and Devon are both midwives who are part of Allegheny Health Midwives, a practice that partners with The Midwife Center. When they are not looking after their own kiddos or catching babies, they love to bake. These two amateur bakers only bake gluten free goodies and enjoy trying new recipes."
Once again, thank you to all who made the event a success!
Event Committee Members
Rachel Dingfelder, Development & Communications Manager
Christine Haas, Executive Director
Kelsey Halling
Kate Harris, Board Member
Rachel Murphy
Abby Slocum
Brigid Sullivan, Chair & Board Member