The Midwife Center is excited to announce the winners of our 12th annual fundraiser party and cake contest, Let Them Eat Cake! Nearly 400 guests attended the event at the Pittsburgh Opera on Saturday, November 4, 2017 to support The Midwife Center's programs and services, and to enjoy cakes by Pittsburgh's more innovative and creative amateur and professional bakers.


You helped us raise a RECORD $48,000 to support safe, personalized reproductive care for women and families. Thank you! Read on for an event re-cap and, of course, the amazing winning cakes.

All photos are by Andy Johanson Photography unless otherwise noted.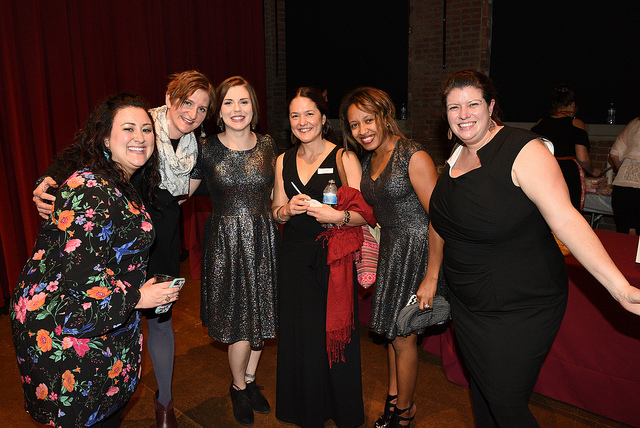 Above: Emily McGahey, MSN, CNM of The Midwife Center; Emilie Hoffman Delestienne, MPH, LCCE, IBCLC and Katie Hyre, LCCE, CPST of Bloom Birth Concierge; Kara Peterson, MSN, CNM of The Midwife Center; Shanyn Winnowski, LCCE and Bethany Brown, LCCE, also of Bloom Birth Concierge.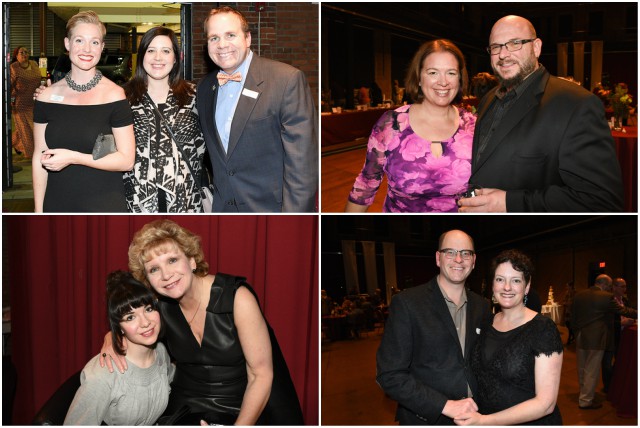 Above, from top left: Event Committee co-chair, board member, and sponsor Kelsey Halling with Erin Baker and County Councilman Tom Baker; Sponsors Dana and Alex Fruzynski of Harris Grill; Honorary Committee member Betsy Teti with daughter, Julia Teti; Contest judges Jason Roth (also board member and sponsor) and Angelique Bamberg, City Paper.
Guests enjoyed beer courtesy of Harris Grill, wine donated by Eighty Acres Kitchen & Bar, Harris Grill, and Pittsburgh Winery, delicious hors d'oeuvres from DiAnoia's Eatery, a special French 75 cocktail honoring Pittsburgh-born impressionist Mary Cassatt served by Ladies United for the Preservation of Endangered Cocktails (LUPEC), entertainment by DJ Zombo, a fabulous silent auction and more.
Both amateur and professional bakers and decorators amazed guests with their incredible and artistic cakes inspired by the theme "Masterpiece." Our panel of judges rated each cake and chose the winners, and guests voted for their favorite cakes for our People's Choice Awards. The judging panel included Arthi Subramaniam, Food Editor, Pittsburgh Post-Gazette; Angelique Bamberg and Jason Roth, City Paper; Laura Zorch, eatPGH; Frank Locante, Penzeys Spices; Chef Don Winkie, Eighty Acres Kitchen & Bar; Quelcy Kogel, TABLE; and Natalie Potts, Associate Curator of Education, Carnegie Museum of Art.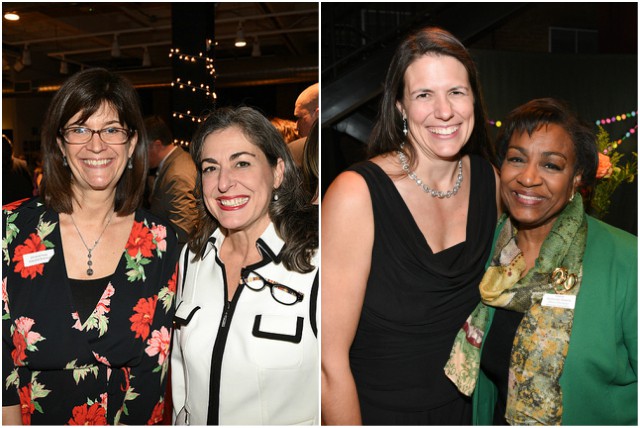 Above: Executive Director Christine Haas and City Councilwoman Deb Gross; Ann McCarthy, MSN, CNM, Clinical Director and Valerie McDonald-Roberts, Chief Urban Affairs Officer, Office of the Mayor.
Thank you to our bakers, decorators, sponsors, guests volunteers, judges, silent auction donors, honorary committee members and everyone else who made Let Them Eat Cake a huge success!

Click here for the event photos and here for the photo booth photos.
Best Overall Professional Decorated Cake (1st place) and People's Choice Best Decorated Cake
"Jewel of the Lotus" by Emma Lee Moore of Emmalee's Sweet Dreams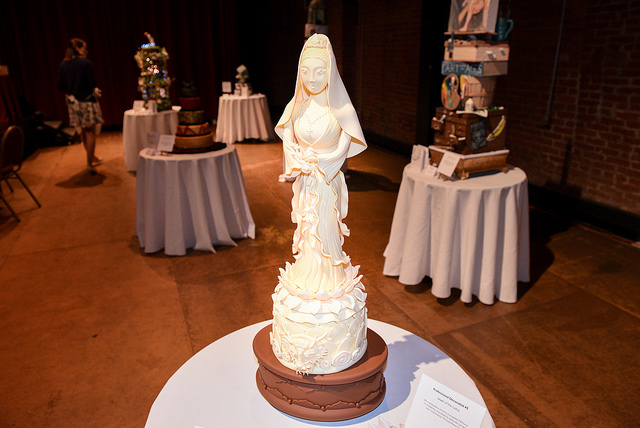 My masterpiece of art is a sculpted Okimono in modeling chocolate to replicate carved ivory. Inspired by "Princess Kwan Yin."
Emmalee's Sweet Dreams is located in Martin's Ferry, Ohio. I have been working for 6 years as a self-taught cake artist from my home.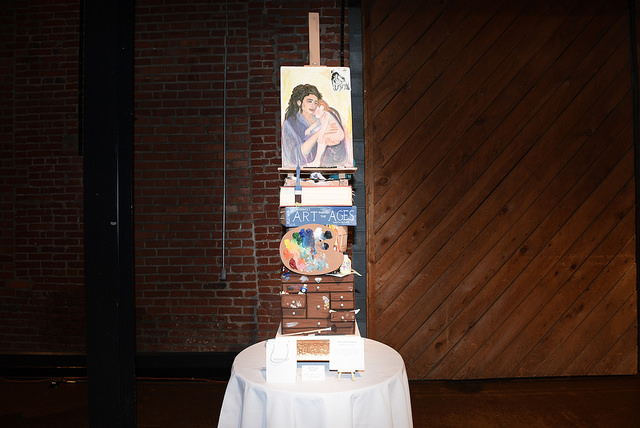 As visual artists we all have a creative process. With this cake design, I wanted to show the chaos and beauty of creating a masterpiece and pay homage to the works that have inspired me.
Breanne Gustafson of Bella Christie and Lil' Z's Sweet Boutique is from Albany, NY and has a degree in painting from the Massachusetts College of Art and Design. After college, she applied for a cake-decorating job on a whim, having no prior experience, and was hired to make fondant pieces. She eventually learned all aspects of cake decorating and has been a professional decorator for two years. She takes a unique fine art and design approach to decorating cakes.
Best Overall Professional Taste Cake (1st place)
"The Basket of Apples - Cézanne" by Aundrea Ambeliotis of Mediterra Bakehouse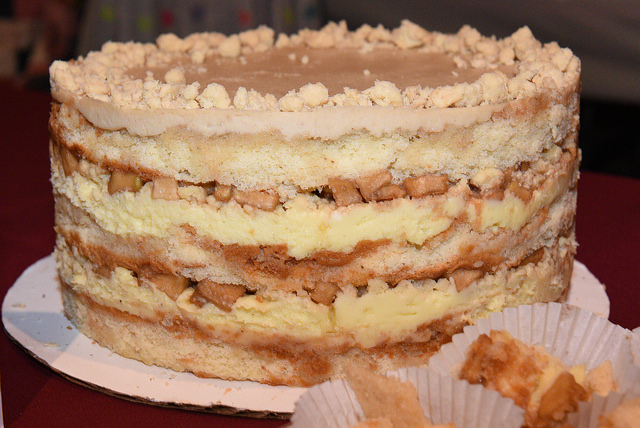 A brown butter cake with apple pie filling.
Judges' Award Professional Taste Cake (2nd place)
"Georgia O'Keeffe's Oriental Poppies" by Kaylie Carini of Hyeholde Restaurant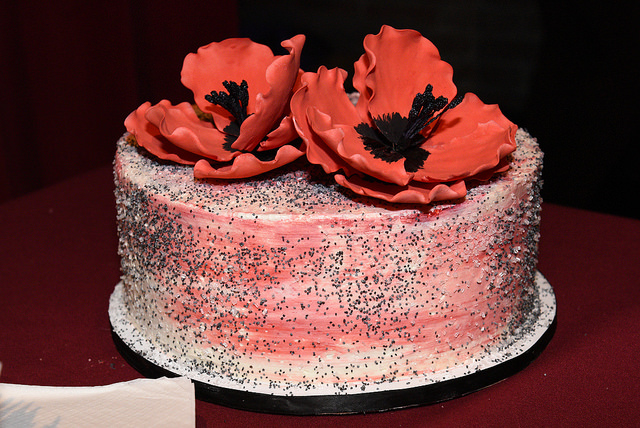 A depiction of Georgia O'Keeffe's 1928 painting "Oriental Poppies." A lemon poppy cake layered with fresh lemon curd, and vanilla bean Swiss meringue buttercream, with a gumpaste poppy as decoration.
I have been living and breathing sugar since beginning my career in pastry arts. After training at Johnson and Wales University, I continued to grow and perfect my craft by working for various kinds of bakeries and restaurants. Through the industry I have gained experience being a bread baker, cake artist, and most currently pastry chef of Hyeholde Restaurant. However, to me, nothing is more enjoyable than designing, and creating cakes. The face on a bride's face upon seeing their masterpiece is priceless.
Best Overall Amateur Decorated Cake (1st place)
"Midsummer Eve" by Denise & Rory Rightmyer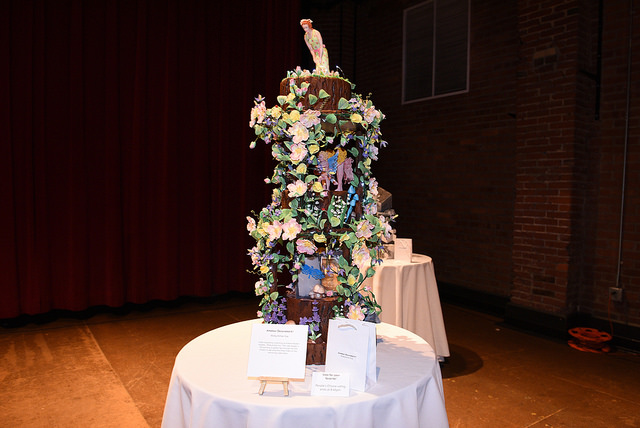 Cake inspired by a painting by Edward Robert Hughes, "Midsummer Eve." The cake topper is the painting sculpted. Spy through the wild flowers to see what the forest hides on the remaining cake layers.
This is our third year entering this event. We enjoy working together on these cakes. Our friends and family are the only ones that get to enjoy our cakes outside this event. We hope you enjoy this year's entry. Previous years entries were the Universal Monsters and the Record player.
Judges' Award Amateur Decorated Cake (2nd place)
"Untitled" by Sara Fortnam, Emily Murphy, and Rachel Lendyak-Peters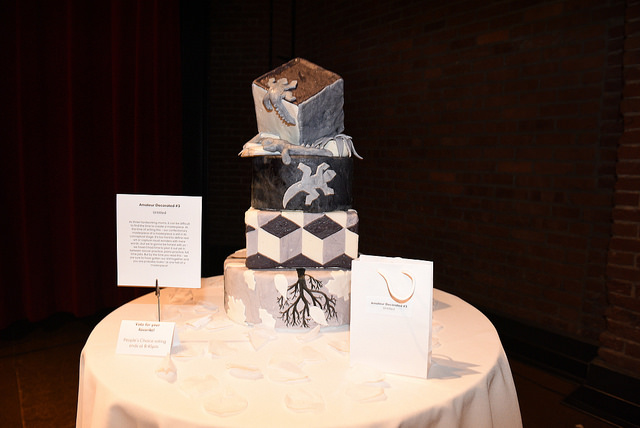 As three hardworking moms, it can be difficult to find the time to create a masterpiece. At the time of writing this - our confectionary masterpiece of a masterpiece is still in its conceptual stage. It's too hard to define real art or capture visual wonders with mere words...but we're gonna be honest with ya - we haven't had time to plan it out yet in between soccer practice, piano practice, full time jobs. But by the time you read this - we are sure to have gotten our shit together and you are probably lookin at one hell of a masterpiece!
Best Overall Amateur Taste Cake (1st place)
"The Red Vineyard at Arles" by Denise & Rory Rightmyer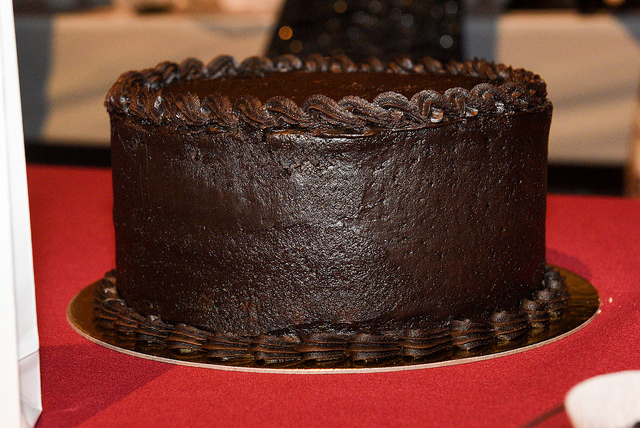 Cake inspired by Vincent van Gogh's "The Red Vineyard at Arles." Enjoy the pairing of dark chocolate and red wine baked in a cake.
Please see bio above.
Judges' Award Amateur Taste Cake (2nd place) AND People's Choice for Best Taste Cake
"Autumn Bliss" by Dana Corbin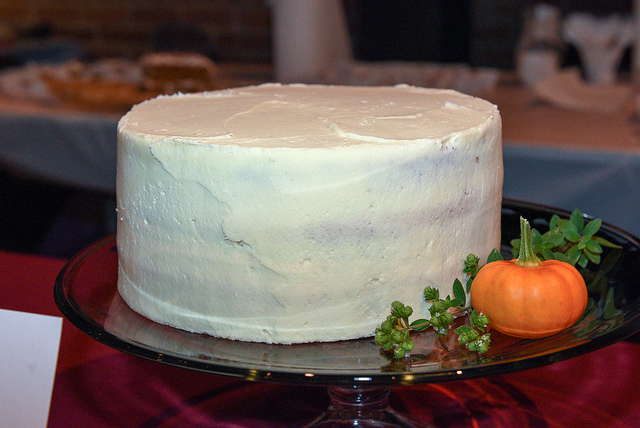 Three layers of brown butter pumpkin cake (cake layers: recipe by Jeanne Kelley, Fine Cooking Issue 107), filled with a cinnamon cream cheese, frosted with white chocolate ganache and served with pumpkin caramel sauce. The pumpkins are sugar pie pumpkins fresh from our home garden!


I've been baking for about three years, specializing in layer cakes and stacked cakes. My focus is on flavor and texture with appearance being a secondary consideration. I LOVE baking cakes for family events and parties.The internet was my teacher - forever grateful to YouTube and baker's blogs!
Once again, thank you to all who made the event a success!
Event Committee Co-chairs
Kelsey Halling
Brigid Sullivan

Event Committee Members
Rachel Dingfelder, Development Coordinator
Christine Haas, Executive Director
Kate Harris
Rachel Murphy
Abby Slocum